Let's Be Like Daniel...
Now when Daniel knew that the writing was signed, he went into his house; and his windows being open in his chamber toward Jerusalem, he kneeled upon his knees three times a day, and prayed, and gave thanks before his God, as he did aforetime. (Daniel 6:10)
Random King James Bible Verse...
Numbers 35:4 And the suburbs of the cities, which ye shall give unto the Levites, [shall reach] from the wall of the city and outward a thousand cubits round about.

Please be aware that we address all sins, including of adult nature. Young children should not be free to be browsing all of the content, however, it is appropriate for young teens and upwards.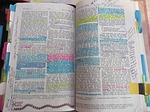 Free Online Bible Study Time
Contact us regarding one-on-one online studies with a live person. We can conduct them via e-mail exchanges, messaging (chat), or video/audio method by something like Skype. Topics can be preset or if there's something on your mind. (Sign me up.)
Basic Belief
This site is a non-denominational site not just being Bible based but solidly Bible structured.
We believe that we are saved alone by Jesus who "came into the world to save sinners." (1 Timothy 1:15).


But we also believe that he commanded us to "go, and sin no more" (John 8:11)


This is not in our strength but Jesus is "able to keep you from falling, and to present [you] faultless before the presence of his glory with exceeding joy" (Jude 1:24).


We do believe that all of us are in ignorance to the full knowledge of God's ways, however, "the times of this ignorance God winked at; but now commandeth all men every where to repent" (Acts 17:30).


And if our hearts are ever in love with God, then we should not be guilty of Jesus' words. "And this is the condemnation, that light is come into the world, and men loved darkness rather than light, because their deeds were evil" (John 3:19).


To find out what we should and should not do, we believe we are to "Study to shew thyself approved unto God, a workman that needeth not to be ashamed, rightly dividing the word of truth" (2 Timothy 2:15).


Concluding there is a right way and many wrong ways to study, we use the method of "precept [must be] upon precept, precept upon precept; line upon line, line upon line; here a little, [and] there a little" (Isaiah 28:10), which means that we pick a topic, collect all the verses and in so doing, we have God's Word and not our opinion.


And we believe that "All scripture [is] given by inspiration of God, and [is] profitable for doctrine, for reproof, for correction, for instruction in righteousness: That the man of God may be perfect, throughly furnished unto all good works" (2 Timothy 3:16-17). Notice we are to learn from the scriptures to live righteous lives.


Intead, all we here is condemnation of any such thought, despite James writing, "Thou hast faith, and I have works: shew me thy faith without thy works, and I will shew thee my faith by my works" (James 2:18).


In short, we are not saved by works but our works show evidence we are saved for we believe "to whom ye yield yourselves servants to obey, his servants ye are to whom ye obey; whether of sin unto death, or of obedience unto righteousness" (Romans 6:16).
Friday, July 23, 2021
Isaiah 51:8 For the moth shall eat them up like a garment, and the worm shall eat them like wool: but my righteousness shall be for ever, and my salvation from generation to generation.
Jesus said three times, "Where their worm dieth not, and the fire is not quenched" (Mark 9:44, 46, 48). Basically, no one should desire hell. We want to be part of the righteous group who has the time called "for ever", implying that those suffering from fire that cannot be quenched once it starts, as those that do not get "for ever". To burn "for ever" would mean that they also have "for ever" and the verse in Isaiah would make no sense. Keep in mind that just because fire is not quenched does not mean that it never goes out. Jude 1:7 tells us, "Even as Sodom and Gomorrha, and the cities about them in like manner, giving themselves over to fornication, and going after strange flesh, are set forth for an example, suffering the vengeance of eternal fire". Is Sodom and the surrounding cities still burning today? No. But it burnt with "eternal" or non-quenching fire! Right. Once the fire begins, it will not go out no matter what, but once everything that is to be burned up is indeed burned up, then nothing keeps the fire going. So, are you still stuck on eternal burning hell, or do you understand that only the righteous (those that receive of God's righteousness and salvation) get "for ever"?
Friday, July 23, 2021
WE ARE NOT SAVED BY JUSTIFICATION ALONE! (279): Mark 7:20-23 says, "And he said, That which cometh out of the man, that defileth the man. For from within, out of the heart of men, proceed evil thoughts, adulteries, fornications, murders, Thefts, covetousness, wickedness, deceit, lasciviousness, an evil eye, blasphemy, pride, foolishness: All these evil things come from within, and defile the man." To be defiled is to be lost. Therefore, avoiding doing any of those things would be the holy and sanctified life. Obviously, those that steal and murder are not going to go to Heaven, but what about those Christians that participate in pride, foolishness, and simple coveting? The answer is no, and yet, many Christians are prideful, are foolish, and covet. So, are you defiled or do you keep yourself from these things?
Friday, July 23, 2021
Matthew 26:74 Then began he to curse and to swear, [saying], I know not the man. And immediately the cock crew.
Some times our conscience is not strong enough to realize the sin we are in the process of doing; therefore, in this case, God used a creature to wake Peter up to the act of what he was doing. For us, it may not be a rooster or even an animal, though dogs some times give us that stare of conviction. But startingly, God has used unconverted people to have compassion and bring it to our attention, even by using the simple statement of, "Hey, I didn't mean to bring you down to my level." Many times, it is simply unusual obstacles in place between the thought of sinning and the point of committing the actual sin: the computer will not work, the phone will not work, the car will not start, even traffic, maybe a stuck elevator. So, what has God used to bring to your attention that what you were doing was wrong, and did you listen, or did you ignore that sign as well?