Let's Be Like Daniel...
Now when Daniel knew that the writing was signed, he went into his house; and his windows being open in his chamber toward Jerusalem, he kneeled upon his knees three times a day, and prayed, and gave thanks before his God, as he did aforetime. (Daniel 6:10)
Random King James Bible Verse...
Zephaniah 2:6 And the sea coast shall be dwellings [and] cottages for shepherds, and folds for flocks.

Please be aware that we address all sins, including of adult nature. Young children should not be free to be browsing all of the content, however, it is appropriate for young teens and upwards.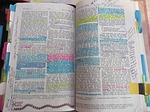 Free Online Bible Study Time
Contact us regarding one-on-one online studies with a live person. We can conduct them via e-mail exchanges, messaging (chat), or video/audio method by something like Skype. Topics can be preset or if there's something on your mind. (Sign me up.)
Basic Belief
This site is a non-denominational site not just being Bible based but solidly Bible structured.
We believe that we are saved alone by Jesus who "came into the world to save sinners." (1 Timothy 1:15).


But we also believe that he commanded us to "go, and sin no more" (John 8:11)


This is not in our strength but Jesus is "able to keep you from falling, and to present [you] faultless before the presence of his glory with exceeding joy" (Jude 1:24).


We do believe that all of us are in ignorance to the full knowledge of God's ways, however, "the times of this ignorance God winked at; but now commandeth all men every where to repent" (Acts 17:30).


And if our hearts are ever in love with God, then we should not be guilty of Jesus' words. "And this is the condemnation, that light is come into the world, and men loved darkness rather than light, because their deeds were evil" (John 3:19).


To find out what we should and should not do, we believe we are to "Study to shew thyself approved unto God, a workman that needeth not to be ashamed, rightly dividing the word of truth" (2 Timothy 2:15).


Concluding there is a right way and many wrong ways to study, we use the method of "precept [must be] upon precept, precept upon precept; line upon line, line upon line; here a little, [and] there a little" (Isaiah 28:10), which means that we pick a topic, collect all the verses and in so doing, we have God's Word and not our opinion.


And we believe that "All scripture [is] given by inspiration of God, and [is] profitable for doctrine, for reproof, for correction, for instruction in righteousness: That the man of God may be perfect, throughly furnished unto all good works" (2 Timothy 3:16-17). Notice we are to learn from the scriptures to live righteous lives.


Intead, all we here is condemnation of any such thought, despite James writing, "Thou hast faith, and I have works: shew me thy faith without thy works, and I will shew thee my faith by my works" (James 2:18).


In short, we are not saved by works but our works show evidence we are saved for we believe "to whom ye yield yourselves servants to obey, his servants ye are to whom ye obey; whether of sin unto death, or of obedience unto righteousness" (Romans 6:16).
Friday, March 05, 2021
Isaiah 45:8 Drop down, ye heavens, from above, and let the skies pour down righteousness: let the earth open, and let them bring forth salvation, and let righteousness spring up together; I the LORD have created it.
This is what is called the latter rain experience in which the Christian character of God's saints will finally be ripened for "Many shall be purified, and made white, and tried; but the wicked shall do wickedly: and none of the wicked shall understand; but the wise shall understand" (Daniel 12:10). Remember, simply enjoying sin in the form of entertainment is wicked in God's eyes even though a person does not do wickedly themselves because our attitude ought to be "I will set no wicked thing before mine eyes" (Psalms 101:3). So, are you preparing for the ripening rain, or are you allowing the world to draw you away in all the wicked ways?
Friday, March 05, 2021
WE ARE NOT SAVED BY JUSTIFICATION ALONE! (168): Clearly Philippians 2:14-16 teaches that the fruit of a holy and sanctified life, even a blameless one, reveals if we are saved or not. "Do all things without murmurings and disputings: That ye may be blameless and harmless, the sons of God, without rebuke, in the midst of a crooked and perverse nation, among whom ye shine as lights in the world; Holding forth the word of life; that I may rejoice in the day of Christ, that I have not run in vain, neither laboured in vain." The world is perverse. They like murder, bloodshed, even sex, having a worldly lifestyle, and yet we watch it as if it is acceptable in the form of sports, TV, and the movies. We listen to it in the form of music and accept it because it is the law of the land. Paul clearly intends to convey that only those that do or "observe all things whatsoever I have commanded you" (Matthew 28:20), as stated by Jesus, being always without "blame and harmless" as we interact in the world but not be of the world (John 17:16), being sons of God instead of sinning and being children of the devil (John 8:44), being lights of salvation in this dark world (John 8:12) instead of participating in their darkness, "holding to the word of life" as opposed to "the wages of sin" which "[is] death" (Romans 6:23). That is to be the end or result of Paul's labor, which means, if we do live like the world, the words of the gospel are vain to us and we shall be lost. None of these things have a place in justification, the forgiveness and the gift of eternal life, but it has a whole lot to do with being converted into a being that can dwell with God, holy angels, and other saints for eternity where sin does not rise up a second time (Nahum 1:9). So, is the gospel vain upon you as you mouth the words of salvation only and permitting sin in your life, or are you actually doing those things because you have received salvation?
Thursday, March 04, 2021
Matthew 24:49 And shall begin to smite [his] fellowservants, and to eat and drink with the drunken;
Smiting or beating fellow servants is not with sticks and clubs -- it is with words. When ministers attack other ministers that speak on the standards of God, that are uplifting the Ten Commandments, that are speaking of developing Christ-like characters, that is when those evil servants are smiting. And the reason they smite the strict Bible preachers is because they want to "eat and drink with the drunken", which is spiritual langue to refer to seeking after the world. The ministers that do the attacking upon Bible principled ministers are worldly, enjoying the pleasures of the world, enjoying even sin. Their message is so enticing that they become the mega churches and grow into large denominations because people like the easy gospel, but the end result will be destructive for all caught up in the easy gospel. So, which ministers are you being influenced by? The ministers attacking the standard-bearers, or are you listening to the faithful standard up lifting ministers?