Let's Be Like Daniel...
Now when Daniel knew that the writing was signed, he went into his house; and his windows being open in his chamber toward Jerusalem, he kneeled upon his knees three times a day, and prayed, and gave thanks before his God, as he did aforetime. (Daniel 6:10)
Random King James Bible Verse...
Luke 12:44 Of a truth I say unto you, that he will make him ruler over all that he hath.

Please be aware that we address all sins, including of adult nature. Young children should not be free to be browsing all of the content, however, it is appropriate for young teens and upwards.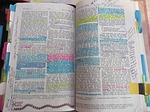 Free Online Bible Study Time
Contact us regarding one-on-one online studies with a live person. We can conduct them via e-mail exchanges, messaging (chat), or video/audio method by something like Skype. Topics can be preset or if there's something on your mind. (Sign me up.)
Basic Belief
This site is a non-denominational site not just being Bible based but solidly Bible structured.
We believe that we are saved alone by Jesus who "came into the world to save sinners." (1 Timothy 1:15).


But we also believe that he commanded us to "go, and sin no more" (John 8:11)


This is not in our strength but Jesus is "able to keep you from falling, and to present [you] faultless before the presence of his glory with exceeding joy" (Jude 1:24).


We do believe that all of us are in ignorance to the full knowledge of God's ways, however, "the times of this ignorance God winked at; but now commandeth all men every where to repent" (Acts 17:30).


And if our hearts are ever in love with God, then we should not be guilty of Jesus' words. "And this is the condemnation, that light is come into the world, and men loved darkness rather than light, because their deeds were evil" (John 3:19).


To find out what we should and should not do, we believe we are to "Study to shew thyself approved unto God, a workman that needeth not to be ashamed, rightly dividing the word of truth" (2 Timothy 2:15).


Concluding there is a right way and many wrong ways to study, we use the method of "precept [must be] upon precept, precept upon precept; line upon line, line upon line; here a little, [and] there a little" (Isaiah 28:10), which means that we pick a topic, collect all the verses and in so doing, we have God's Word and not our opinion.


And we believe that "All scripture [is] given by inspiration of God, and [is] profitable for doctrine, for reproof, for correction, for instruction in righteousness: That the man of God may be perfect, throughly furnished unto all good works" (2 Timothy 3:16-17). Notice we are to learn from the scriptures to live righteous lives.


Intead, all we here is condemnation of any such thought, despite James writing, "Thou hast faith, and I have works: shew me thy faith without thy works, and I will shew thee my faith by my works" (James 2:18).


In short, we are not saved by works but our works show evidence we are saved for we believe "to whom ye yield yourselves servants to obey, his servants ye are to whom ye obey; whether of sin unto death, or of obedience unto righteousness" (Romans 6:16).
Tuesday, December 01, 2020
Isaiah 42:6 I the LORD have called thee in righteousness, and will hold thine hand, and will keep thee, and give thee for a covenant of the people, for a light of the Gentiles;
I love when this works out so well that we are just going to read the Bible to completely understand this verse. We, "being dead to sins, should live unto righteousness" (1 Peter 2:24), which means, to stop sinning and do only righteous acts. However, "with men this is impossible; but with God all things are possible" (Matthew 19:26). Therefore, "unto him that is able to keep you from falling, and to present [you] faultless before the presence of his glory with exceeding joy" (Jude 1:24), which means, if we cooperate with God, He will actually keep us from sinning because "in my flesh, dwelleth no good thing" (Romans 7:18)! And if we have stopped sinning and are upheld from sinning by Jesus, "the Lord commanded us, [saying], I have set thee to be a light of the Gentiles, that thou shouldest be for salvation unto the ends of the earth" (Acts 13:47), for if we continue in sin, what type of light would we be then? So, are you a true light to unbelievers, or do you just join in with their worldly ways?
Tuesday, December 01, 2020
WE ARE NOT SAVED BY JUSTIFICATION ALONE! (93): So, let us get this straight. Once saved, always saved permits people to be careless about the Ten Commandments. People saved by grace and not by the law, which we agree, also are careless about the Ten Commandments, which keeping of them is the fruit of a saved relationship and not the means. Those saved by faith also disregard the Ten Commandments for fear of working towards Heaven, which we are all in agreement that no one can work their way to Heaven, but James says, "I will shew thee my faith by my works" (James 2:18), which is again, the fruit of a saved relationship and not the means. The means of being saved is Jesus. The fruit of accepting Jesus is obedience through God's Word and His commandments. It is not something we choose to do ("Have to keep those commandments now"), but rather, it is something we just do ("how then can I do this great wickedness, and sin against God?" - Genesis 39:9). In other words, these three ways people think they are saved, dismissing the law, get to serve their own selfish ways, in which, if they feel like obeying, they do, but if they want to do something, they just claim, "I'm not saved by the law anyways" and do it. It sounds like a whole lot of self-serving, yet, we are told from Jesus Himself, "It is written, Thou shalt worship the Lord thy God, and him only shalt thou serve" (Matthew 4:10). And do not give us some excuse that this was towards Satan. Although spoken towards Satan, it is a rule for all created beings. Serving God only is the sanctified and holy life. All selfishness, which any form of sinning, any form of breaking the Ten Commandments, is self-serving. So, who do you serve? God or self?
Tuesday, December 01, 2020
Matthew 23:1-2 Then spake Jesus to the multitude, and to his disciples, Saying, The scribes and the Pharisees sit in Moses' seat
It is not actually as simple as that because "the man Moses [was] very meek, above all the men which [were] upon the face of the earth" (Numbers 12:3), and the scribes and Pharisees were not. Therefore, they simply loved to have the authority but not the care for the souls. They liked to condemn to make themselves look good. They loved to make the rules that favored themselves and prevented others from achieving. This is true today, where denominations have placed themselves above the Bible and dictate what the rules are, only this time, everyone is saved. So, do you follow the real Jesus as revealed in God's Word, or the made up one by church leaders? [Keep in mind, there are only a few accurate leaders but they are so sparse that it is hard to find them. We are not condemning all of them, but we are condemning all that placed themselves in a false position such as condemning the law, obedience to God's Word, etc.]