Let's Be Like Daniel...
Now when Daniel knew that the writing was signed, he went into his house; and his windows being open in his chamber toward Jerusalem, he kneeled upon his knees three times a day, and prayed, and gave thanks before his God, as he did aforetime. (Daniel 6:10)
Random King James Bible Verse...
Isaiah 42:8 I [am] the LORD: that [is] my name: and my glory will I not give to another, neither my praise to graven images.

Please be aware that we address all sins, including of adult nature. Young children should not be free to be browsing all of the content, however, it is appropriate for young teens and upwards.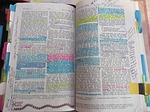 Free Online Bible Study Time
Contact us regarding one-on-one online studies with a live person. We can conduct them via e-mail exchanges, messaging (chat), or video/audio method by something like Skype. Topics can be preset or if there's something on your mind. (Sign me up.)
Basic Belief
This site is a non-denominational site not just being Bible based but solidly Bible structured.
We believe that we are saved alone by Jesus who "came into the world to save sinners." (1 Timothy 1:15).


But we also believe that he commanded us to "go, and sin no more" (John 8:11)


This is not in our strength but Jesus is "able to keep you from falling, and to present [you] faultless before the presence of his glory with exceeding joy" (Jude 1:24).


We do believe that all of us are in ignorance to the full knowledge of God's ways, however, "the times of this ignorance God winked at; but now commandeth all men every where to repent" (Acts 17:30).


And if our hearts are ever in love with God, then we should not be guilty of Jesus' words. "And this is the condemnation, that light is come into the world, and men loved darkness rather than light, because their deeds were evil" (John 3:19).


To find out what we should and should not do, we believe we are to "Study to shew thyself approved unto God, a workman that needeth not to be ashamed, rightly dividing the word of truth" (2 Timothy 2:15).


Concluding there is a right way and many wrong ways to study, we use the method of "precept [must be] upon precept, precept upon precept; line upon line, line upon line; here a little, [and] there a little" (Isaiah 28:10), which means that we pick a topic, collect all the verses and in so doing, we have God's Word and not our opinion.


And we believe that "All scripture [is] given by inspiration of God, and [is] profitable for doctrine, for reproof, for correction, for instruction in righteousness: That the man of God may be perfect, throughly furnished unto all good works" (2 Timothy 3:16-17). Notice we are to learn from the scriptures to live righteous lives.


Intead, all we here is condemnation of any such thought, despite James writing, "Thou hast faith, and I have works: shew me thy faith without thy works, and I will shew thee my faith by my works" (James 2:18).


In short, we are not saved by works but our works show evidence we are saved for we believe "to whom ye yield yourselves servants to obey, his servants ye are to whom ye obey; whether of sin unto death, or of obedience unto righteousness" (Romans 6:16).
Sunday, November 28, 2021
Isaiah 58:5 Is it such a fast that I have chosen? a day for a man to afflict his soul? [is it] to bow down his head as a bulrush, and to spread sackcloth and ashes [under him]? wilt thou call this a fast, and an acceptable day to the LORD?
All of these questions reveal that God is not pleased. Today, Christians have piled on traditions, sacrifices like Lent, and many other things in honor of God, but they are not found in the Bible. In fact, many of the items are actually condemned, like the forty days of weeping for Tammuz (Ezekiel 8:14) that has been passed off as the term "Lent" where people give up something personal during that same time period calling it a sacrifice. Even God's commandments are replaced by traditions, yet, so many Christians claim to be honoring God. So, is everything you do pleasing to God, or based upon traditions, even pagan traditions?
Sunday, November 28, 2021
WE ARE NOT SAVED BY JUSTIFICATION ALONE! (383): James 2:11-12 states, "For he that said, Do not commit adultery, said also, Do not kill. Now if thou commit no adultery, yet if thou kill, thou art become a transgressor of the law. So speak ye, and so do, as they that shall be judged by the law of liberty." We shall all be judged by the keeping of the Ten Commandments or the lack thereof, the law that liberates us from sin, which we are in bondage to. The law is not bondage. The law is freedom for Jesus said, "Ye shall know the truth, and the truth shall make you free" (John 8:32), and "Whosoever committeth sin is the servant of sin" (John 8:34). Therefore, do you keep the commandments and are not guilty of breaking them by the grace of God, living the expected holy and sanctified life, or are you still in bondage to sin?
Friday, November 26, 2021
Mark 1:32 And at even, when the sun did set, they brought unto him all that were diseased, and them that were possessed with devils.
Whatever ails us, we ought to go to Jesus, but remember, we need to see the greater purpose in things. It does not mean we shall be healed. We may come away with finding out what has caused our problem. People smoke from teen to retirement and then pray to God for healing from the cancer. So, do you go to Jesus with your concerns?